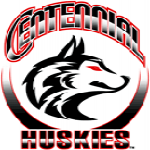 We caught up with Centennial's Varsity Coach, Joshua Giles, to pick his brain about the upcoming season, and after sitting through a practice it is clear that Centennial is ready to bring the intensity, focus, and effort needed to be one of the best teams around this year.  Check out some of the great insights Coach Giles shared with us…
Give us an overview of your time at Centennial and the things that stand out the most to you.
This is my 12th year at Centennial. Out of the 11 previous years, we've won 8 league Championships. We went to 2 CIF Finals, and won 1, and 2 Southern CA Regional Finals, and won 1. In my time here we've had 249 Wins, 81 losses. In 2011 we finished 15th in the country, and our record was 30-5. But our whole team was seniors, so we graduated everybody. So in 2012 all the guys who are seniors on this team now, were freshmen then. So we had 8 freshmen on the team that year, and they had to play…we started 4 freshmen almost every game. I think we were 9-16 that year. Five of those players are still here, and they have been awesome. That first year we kind of took a whooping from everybody, but the next year we went 26-3, and last year 29-4. And they've just gotten progressively better. It says a lot about them as kids and as competitors, to come in as freshmen and play that many minutes and really, you know, get your butt kicked, and then to work hard and come back the way they have.   We just need them to do it for one more year. We've got some really, really good players. We try to play as tough a schedule as possible. I know some people disagree with that, and kind of lighten their schedules. I just think that if you want to be good, and you want to be the best, you've got to play the best and you've got to beat the best. I don't think you can be the best if you play a soft schedule and beat up on people that you are better than. It's about finding a way to win those tough games.
We have 11 tournament games that are going to be really hard. Our league games are always tough, because there are some really good coaches/teams in our league. They are always well prepared for us, so our league is always a challenge.
What returning players and/or newcomers are you excited about and how do you feel they can contribute this year?
Sedrick Barefield – He has really turned a corner as far as maturity and intelligence.  He is playing at a high level and could really lead this team if he keeps doing it.
Khalil Ahmad – He's a senior committed to Cal State Fullerton.  He's a leader that is ready to have a breakout year.
Ike Anigbodu – A 6'9 Junior who gets better everyday.  He is Big and physical.
Jalen Hill- A 6'8 sophomre.  His size and athleticism can make a difference.
Having had such a great run during your time as Coach here, what is your perspective on this year's team and how they measure up?
For this team you have to use that "scary word"…potential. Because potential just means you haven't done it yet. But I think we have the potential to be one of the best teams, if not the best. The potential for that is there, but we've got a long ways to go. We've got a lot of stuff to do to get there. But the potential is definitely there…so that's big.
I started coaching at Centennial at age 24. Dennis Pratt, the AD who hired me, told me straight up, "I'm not hiring you for the coach you are at 24, I'm hiring you for the coach I think you could become one day." He thought I was too young at the time, but he didn't want me to go anywhere else. I'm still in touch with him all the time. At the time, if you think about it, Centennial was already a really good program, and he kind of stuck his neck out there hiring a guy that was so young. I've always been kind of indebted to him. The first couple year, it was kind of a struggle. It took some time. I had an idea of what I wanted to do here with the program, and we had to take a bunch of steps backward to go forward. But thank goodness it happened. We've had some amazing leaders/players come through this program. My 4th year was my first senior class, and we won CIF. It was a big sigh of relief. We just had to keep building upon it.
What is your coaching philosophy regarding winning/losing? 
We actually never talk about winning or losing.  We stress getting better everyday and playing to the best of our abilities.  If we can do those things, the winning and losing will take care of itself.
How do you motivate your players and encourage them to fight through adversity? 
Nothing comes easy.  Anything worth fighting for is going to be difficult and you will face challenges.  What separates champions from mediocre people is the champions embrace the adversity and get better, while others quit.
Other than talent, what characteristics do you look for in younger players looking to play for you?
I think every year, the fundamentals of the freshmen that come in, get worse and worse than the year before. It's like we have completely gotten away from fundamental basketball. I mean, if you turn on Sports Center, they're not showing you a jump stop, that leads to a two handed chest pass, that leads to an easy lay up. You're seeing the windmills. So kids have all these unbelievable moves, but they can't see man and ball, basic things. You would think you were speaking Greek. I don't want to sound like an old fart, but I really think the fundamentals are deteriorating, and it's noticeable. Basic basketball terminology. But the trainers who are teaching fundamentals to the younger kids, it's huge. I've been able to develop a really good network of college coaches, and one of them sent me a video of a trainer doing/teaching these huge crossovers, and the coach said, "This is what we have to deal with now". It's like, when are you ever going to use that?   People are teaching these kids how to play at the park…not how to play in a regular game. Travel ball games are a necessity…I get it. But when you get to high school and college, you have to run a system. So as a coach I want to know can you make a jump stop? Can you see man-and-ball? Do you know how to help the helper? Can you box out? Some of the basic things they don't know. So we spend a lot of time with the incoming kids teaching fundamentals than we ever have. So having the fundamentals is key. It's something that we really look at.
What are the character traits that appeal to you most about a player?
If you give me a group of tough guys, they don't have to be the most skilled, but if you give me some tough guys, we are going to win. We try to instill that toughness. During practice we don't take water breaks. I know that's kind of old school. They can go get water, but if they miss a drill because they are getting water, we are going to be on the line. We don't do water breaks, we don't do break time, we don't take naps. It's go, go, go. From one drill to the next we have 4 seconds, and that next drill starts. There's no down time. For most of the drills we don't play out of bounds. We want them to get into that mind frame of "you don't stop until you hear a whistle." And I don't bring a whistle to practice. So we don't stop. We keep going, and we want to carry that onto the floor when we play. I want that fine line of guys, who are enthusiastic about their goals, because they can accomplish a lot of stuff. That's what we try to instill in their practice. At practice you may hear me say, "This ain't the library!" Because we want it loud and intense. That's why we never go over 2 hours. If I can't get it out of you in 2 hours, then we try again tomorrow. We do 2-a-days all throughout the year. They're in the gym at 7:15am, first period basketball, until 8:30am, then after school 4-6pm. So we do individual work in the morning, and team stuff after school. We want to instill in our players that you have to be willing to something that the other guy is not. And if we are willing to make the sacrifice that the other guy is not, then that should give us a bit of an advantage. Give me a tough, unselfish kid, and we are going to win a lot of games. Those guys will always find their way on the floor. Coaches love those guys.
One last piece of advice for younger players?
Understand that the people that are hardest on you are probably the people who care the most.
Check out video below of Centennial in action during a pre-season practice:
https://genesishoops.com/wp-content/uploads/2015/01/Corona-Centenial.png
150
150
rudyb
https://genesishoops.com/wp-content/uploads/2015/11/New-Logos1-495x156.png
rudyb
2015-01-12 04:38:13
2015-12-06 08:31:14
Centennial High School Basketball