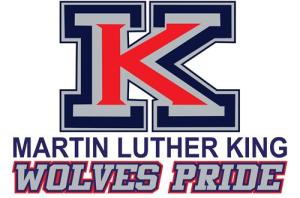 Shortly after opening in 1999, Martin Luther King High School became a Riverside County basketball darling, winning a host of league championships, CIF divisional titles, and a State championship, under the direction of former head coach Tim Sweeney.  This year his former assistant, coach Jeffery Dietz has taken over the ranes and aims to build on their great tradition of success.  His talented roster of emerging players will surely turn some heads this season in their pursuit to hang another championship banner in the gym.  Many know King as the former stomping ground of NBA players like Kawhi Leonard (Spurs) and Tony Snell (Bulls), but this class is looking to make a name for themselves.  Coach Dietz admits that they are a young group who still needs to be battle tested, but they are anxious for game day.  He was kind enough to answer a few questions for us below.  Be sure to check out his responses and the Wolves this season.
What returning players and/or newcomers are you excited about and how do you feel they can contribute this year?
We have several underclassmen that are really going to help our team succeed.  As a whole we are young group.
How would you describe the difference between this year's team and last year's team?
Youth vs Experience
What is your coaching philosophy regarding winning/losing?  Working hard?
 Work hard and give good effort – success will follow
How do you motivate your players and encourage them to fight through adversity?
We use the big picture concept.  Neither success or failure are final – the group just need sto stay focused on playing hard and for each other.
What are you most proud of regarding your team/program?
 Seeing the kids grow and develop as a team is always rewarding
One piece of advice for elementary school/jr high players looking to play HS basketball in the future?
 Learn how to play good ball defense. Contain your player!
https://genesishoops.com/wp-content/uploads/2014/12/king-high-school.jpg
331
500
rudyb
https://genesishoops.com/wp-content/uploads/2015/11/New-Logos1-495x156.png
rudyb
2014-12-02 06:06:10
2015-12-06 08:35:49
Riverside King High School Basketball