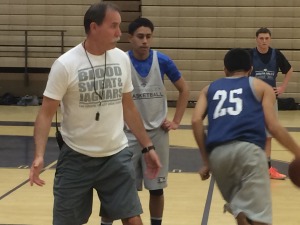 Pre-Season Series – Jurupa Valley High School
This series highlights the programs of various Inland Empire basketball teams, coaches, and programs, offering a rare glimpse into the methods and philosophies of programs that are working hard at being GREAT…on the court, in training, and in life.  Stay tuned as we continue to highlight teams, and root for them during their upcoming seasons.  Be Great!
Genesis Hoops is putting a spotlight on the Jurupa Valley High School Boys Varsity Basketball Team.  Since 1989, they have won 3 League Championships, and are looking to win another.  Focused on hard work, and fundamental training, we were impressed with their program, coaching and players.
We had a chance to catch up with the Boys Varsity Coach, Mark Gard, to discuss his thoughts about the outlook for the Jaguars' upcoming 2014-15 basketball season.  Check out some of his great responses below (scroll to bottom for video):
What returning players and/or newcomers are you excited about and how do you feel they can contribute this year?
Damian Givens – Sophomore, Guard ; Alex Ortiz – Senior, Guard;  Edwin Leyva – Senior, Guard.  All are good shooters and returning contributors from last season's squad.  Newcomers would be Andrew Morales – Freshman and Justin Francis – transfer Freshman.
How would you describe the difference between this year's team and last year's team?
Maturity.  We were very young last season with very limited outside shooting capabilities. 
What is your coaching philosophy regarding winning/losing?  Working hard?
We have never been a program only concerned with winning/losing.  We teach basketball and life skills, and hopefully how to be successful.  If you are successful in endeavors undertaken, wins will come along.
How do you motivate your players and encourage them to fight through adversity?
By constantly reminding them that all fail, but to look at failure as a temporary setback to be overcome in the future, while working hard to not repeat the same mistakes.
What are you most proud of regarding your team/program?
All the players I've had the privilege to be a part of their growth from teens to adults.
One piece of advice for Elementary School/Jr. High players looking to play HS basketball in the future?
Don't think you know it all.  Be a student of the game constantly trying to improve your game physically and mentally.  Also, have fun, it is a game.
About Coach Mark Gard
Coach Gard has proven longevity and impact over his impressive coaching career.  He has been the Boys Varsity Coach at Jurupa Valley High School since the school opened in 1989, but previously coached at Long Beach Wilson High School, Avalon High School, and Riverside Poly High School, where his dad was the Coach during the High School career of Riverside legend and NBA Hall of Famer, Reggie Miller.  Coach Gard is assisted by Coach John Gorham (father of Norte Vista High School Boys Varsity Head Coach, Geoff Gorham), and together they bring a critically important fundamental approach to player and team development.  Watch and listen to this video taken at a preseason practice, in which coach Gard discusses their goal this year of finishing among the top 3 in their league and making the playoffs.  He also throws in some interesting details about his basketball background and motivation for coaching.
https://genesishoops.com/wp-content/uploads/2014/12/IMG_2653.jpg
2448
3264
rudyb
https://genesishoops.com/wp-content/uploads/2015/11/New-Logos1-495x156.png
rudyb
2014-12-01 10:07:30
2015-12-06 08:38:24
GH Pre-Season Series: Jurupa Valley High School Basketball