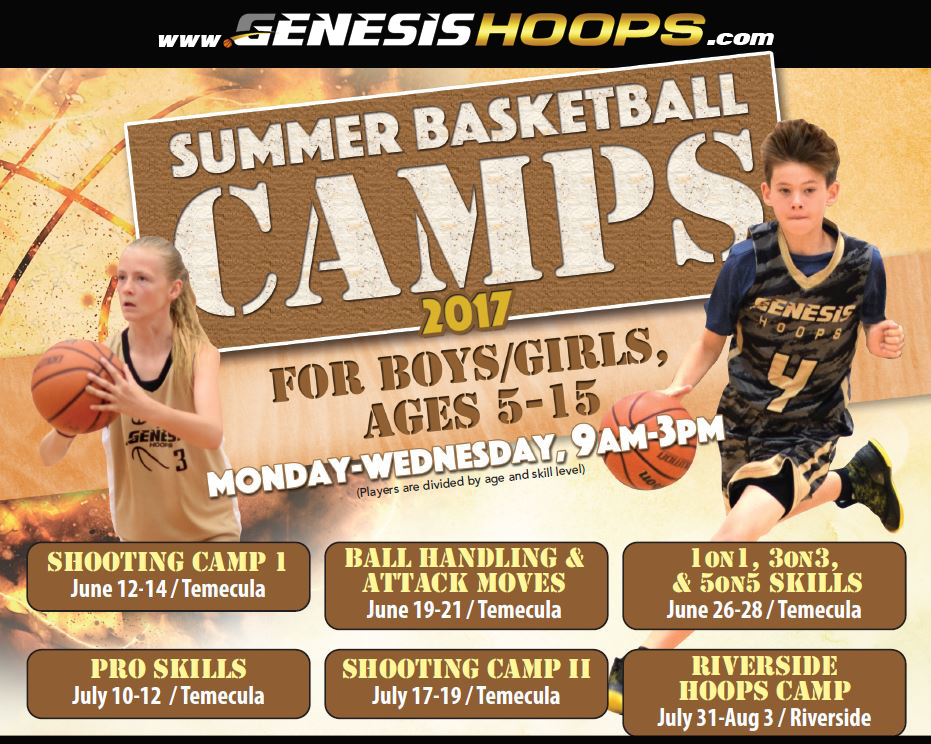 REGISTER TODAY
Registration Fee: $155/camp
---
FREE CAMP SHIRT included with registration!
Location: Rancho Sports Center (RSC)
28780 Single Oak Dr.  Temecula, CA
---
June 12-14 – @ RSC, 9am-3pm
---
Practice proper shooting form using our shooting machine and NEW Noah shot analytic system.  Every player will leave camp with a printed shot analysis sheet and valuable insight for their continued shooting development.
June 19-21 – @ RSC, 9am-3pm
---
Enhance your speed and precision with controlling the basketball and your body in game situations.  This specialized camp will challenge players through the use of medicine balls, weighted basketballs, agility ladders, and more!
June 26-28 – @RSC, 9am-3pm
---
Work towards mastery of dribbling, shooting, footwork, passing, offensive strategies, and individual and team defense.
July 10-12 – @ RSC, 9am-3pm
---
Train like the Pros and enhance your game like never before.  How will you measure up against the Vertimax, resistance bands, dribble sticks, slide machines, and other professional training devices used most by professional athletes?
July 17-19 – @RSC, 9am-3pm
---
The second installment of shooting camp will also feature "The Gun" shooting machines and our NEW Noah system, and new challenging shooting drills and competitions each day!
July 31 – Aug. 3  – Riverside, 9am-2pm
---
(*This camp will be held at Orange Terrance park; participants must CLICK HERE register on the City of Riverside website.) Develop a well rounded game with great ball handling and shooting drills along with competitive team play.
Genesis Hoops offers various camps for all ages and levels.  Camps are designed to last for several hours/days and focus on offensive and defensive skills and strategies.  Players will rotate between stations focusing on specific skill areas, and will spend time learning, perfecting, and applying the skill from each station.  Players will also spend time in game situation match ups, allowing them to begin using and implementing the skills they have learned/perfected from the station skills training.